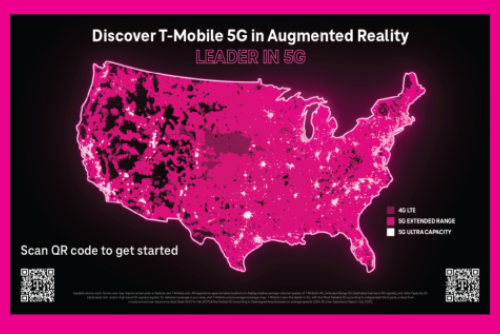 Earlier today, Samsung held its Galaxy Unpacked event where it unveiled its latest slew of devices that it is working on. Some of these devices, such as the Samsung Galaxy Z Flip3 5G, Z Fold3 5G, Galaxy Watch 4, Watch 4 Classic, and Galaxy Tab S7 FE 5G have been confirmed to be coming to T-Mobile pretty soon. 
In its release, T-Mobile revealed some pretty exciting offers for these new devices. You can get these devices at a discount or even for free:
The two new smartphones are compatible with T-Mobile's Extended Range 5G and Ultra Capacity 5G network. And if you pair them with Magenta MAX, you can enjoy the perks that it brings.
In addition to these new phones, T-Mobile revealed that they have rolled out a giant Augmented Reality (AR) version of its network map. You can use the QR code here to see the map in action. 
T-Mobile is already accepting pre-orders for the smartphones and watches before its release on August 27th. The Galaxy Tab FE 5G, on the other hand, will be available starting Friday. 
Tags: AR Network Map, Extended Range 5G, Samsung Galaxy Tab S7 FE 5G, Samsung Galaxy Watch 4, Samsung Galaxy Watch 4 Classic, Samsung Galaxy Z Flip3 5G, Samsung Galaxy Z Fold3 5G, Ultra Capacity 5G
Select the amount of total data you need for the entire plan.
For example, if you need 2 lines with 1 GB of data each, you would select 2 GB of data with the data slider below.